Sebastian "Zeb" Julian 1910-1974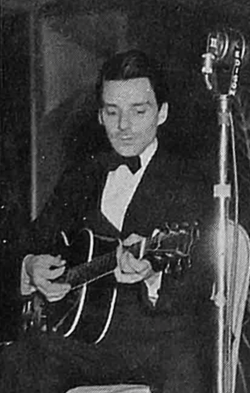 I first learned of Zeb Julian from Bucky Pizzarelli in 2012. Bucky told me about Zeb's amazing fingerstyle playing and his tragic career-ending injury; losing his two middle left hand fingers in a factory accident. Very little has been written on Zeb Julian so I recently began to research his life and music. Curiously, online searches of Zeb Julian were devoid of photographs, nor could I find any in books. Through some careful detective work I was able to find several photos. In the photo above from 1941 taken at the Hotel Edison, Metronome magazine confused Zeb with guitarist Dave Barbour. 
The main sources of my research were Metronome and Downbeat magazine on microfilm, Harlem Jazz Adventures by Timme Rosenkrantz, Ancestry.com, NYC directories, and personal accounts; published and/or from conversations with Don Meehan and Bucky Pizzarelli. Zeb's only known solo recordings are unissued versions of Birch Bark, Franaticism and Modd Indigo recorded on 10/18/43 at Radio Recording Studio 1619 Broadway, NYC (the famous Brill Building.) It's noted that there were two more Zeb Julian solo recordings listed in Rosenkrantz' private collection, "Untitled" and "Improvisations," but these very well could be "Birch Bark" and  "Franaticism" perhaps given these titles on dubbed copies of the original studio acetate discs. Stardust and Jerry Murphy Is A Friend Of Mine are other Julian recordings from the same session. Zeb also recorded a duet of "Jingle Bells" with a clarinetist and a duet with another guitarist, most likely Allen Hanlon, of the tune "The Man I Love." All of the aforementioned recordings were done at the same session after his recordings as a sideman with vocalist Helen Ward. On the same date, 10/18/1943, Zeb recorded the tune "Quarterback Sneak" with Helen Ward alongside guitarist Allen Hanlon who played on other tracks. For an analysis and my impressions of Julian's solo improvisation recordings, please read to the end of this article. The remainder of Zeb's recordings were with big bands and a few smaller groups. It appears that his jam session performance in 1939 at the Hippodrome in NYC alongside Benny Carter, Buster Bailey, Art Ryerson, Cozy Cole and a few others, was a very important opportunity to him. 
Zeb was born Sebastian R. Julian on September 29, 1910 in Newark, New Jersey. He was a self- taught guitarist and came from a large family, his brothers Jules and George were both professional guitarists. Zeb's father Rafaelo (Ralph) Juliani, a tailor, was born in Italy and his mother Adelina (Lena) Romano was born in Pennsylvania. Zeb's middle initial "R" could possibly be Rafaelo. "Who Is Who in Music" lists Zeb as 5'4" 160 lbs. black hair, brown eyes with his recreation as sports.
Zeb moved away from Newark in 1933-34 to Detroit MI presumably for band work. When he moved back east to New York in 1935, he became a member of local 802 and met Barry Galbraith who would be influential in finding him work there. Whenever Barry left a band he recommended Zeb, as a result their early discographies are strikingly similar. Zeb went from band to band, several accounts indicate that he made some of the other musicians and bandleaders uncomfortable. Zeb was reported to have such a strong ear and a personality to match, that when he would hear any mistakes he'd let his bandmates know. He shied away from both the spotlight and recording under his own name, perhaps due to his perfectionism. This may be a possible reason as to why he never persuaded bandleaders to let him take a solo. An alternative explanation is that he simply preferred to play strictly rhythm guitar with big bands and small combos that had prominent horn soloists. According to Timme Rosenkrantz, Zeb enjoyed playing with Wingy Manone and Bobby Hackett in smaller combos and did not like playing with big bands as much. Zeb had two musical dreams; to perform in Russia and to play with his hero, pianist Teddy Wilson. Sadly neither one came true. 

1939 was a busy year for Zeb. He recorded four sides with trumpeter/guitarist Bobby Hackett in July 1939 (his name mistakenly written as Bob Julian on the credits.) He was likely filling in for Eddie Condon. Sometime in the late 30's, Epi Stathopoulo invited Zeb and a small group of established guitarists to the Epiphone factory located at 142 W. 14th St. (a hangout for guitarists) and let them choose instruments from their display cases. The guitar (pictured above) that Julian is playing, with the white binding, is likely an Epiphone. In an Epiphone article written in July 1995 for Music Trade magazine, it's mentioned that Zeb was playing in Larry Clinton's band in the late 30's. I've been unable to find any corroborating evidence of this band affiliation. 
Zeb recorded with trumpeter Wingy Manone from April 1939 to January 1940. These are issued on the Bluebird label. Sadly, Zeb had no solos that I'm aware of although there is a short single-note guitar fill on the tune "When My Baby Smiles At Me." An intriguing fact which Billy Bauer mentioned in his autobiography is that Zeb had a solo guitar gig for a week or two at Kelly's Stables when Coleman Hawkins had returned from Europe and recorded Body and Soul (this would have been after October of 1939.)  
With Bobby Hackett
Zeb replaced Art Ryerson in Raymond Scott's band in April of 1941. Scott wanted to write a concerto using 6 guitars to be premiered at Carnegie Hall but when Ryerson left the band, the idea was most likely shelved. The photo below shows Zeb playing with Raymond Scott at Meadowbrook in Cedar Grove, New Jersey.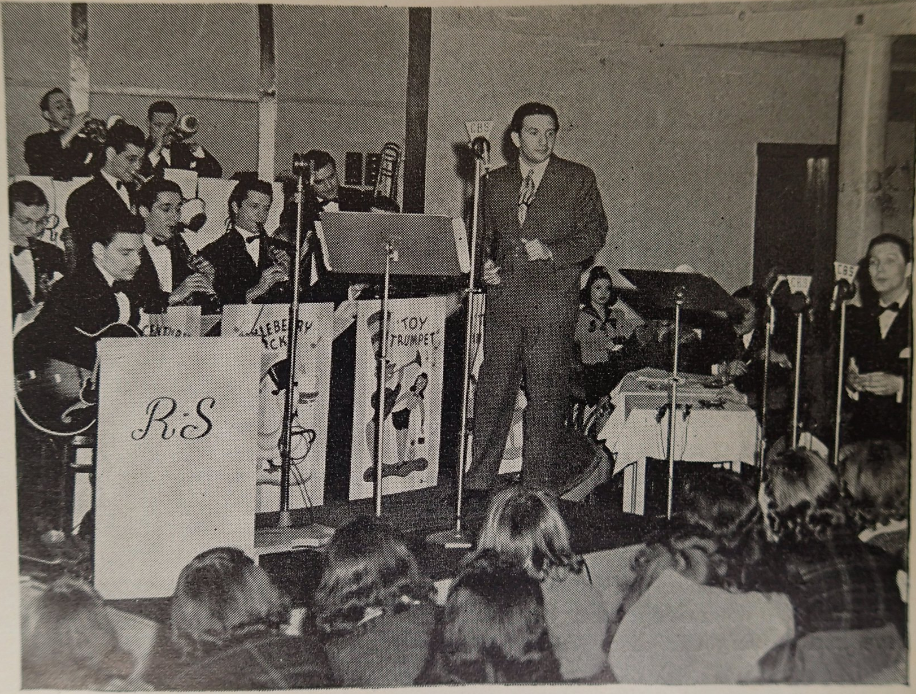 In May of 1941 until about March of 1942, Zeb played in the Teddy Powell orchestra. Barry Galbraith described Teddy Powell as "a nincompoop" that happened to pay well, and that Powell once made a hit record by rearranging the melody notes to"Glow Little Glow Worm" backwards. On Oct. 25, 1941 in Englewood Cliffs NJ at the Rustin Cabin Inn, a fire destroyed many, if not all, of the Powell band's instruments and arrangements. Zeb Julian lost a brand new electric guitar and amp in the fire in addition to Powell, who lost his guitar. The band also lost their extended gig that had just begun there. The photo below shows Zeb on guitar (partially obscured, in front of the drummer.) The whole band is wearing baseball caps.  Zeb is also seen in three 1942 Teddy Powell soundies. The first soundie below focuses on the band more, the other two show very little of Zeb. (Thanks to Mark Cantor and Franz Hoffman for telling me about the soundies and Zeb's inclusion. I'm looking to obtain clear still images from these soundies and will post here after I track them down.)
Appearance with Una Mae Carlisle early August 1941 at the Hotel Edison in the green Room